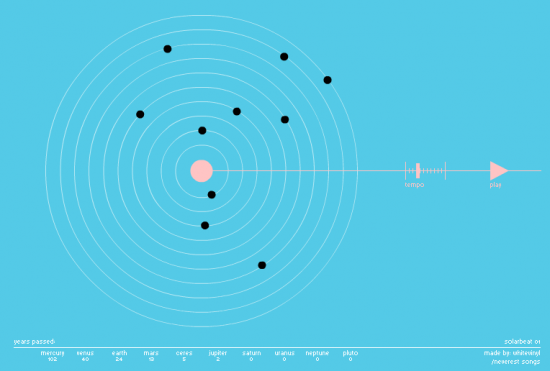 I like SolarBeat by WhiteVinylDesign -- a virtual music box of the planets. Each time an orbit is completed, a note is struck. The planets, of course, do not have circular orbits -- but it is in keeping with the spirit of Kepler's, "...the movements of the heavens are nothing except a certain everlasting polyphony".
Johannes Kepler established that the planets move elliptically around the sun, and that they accelerate as they approach the sun. Seminal scientific stuff that prepared the way for Newton, but his deeper belief, seen in his statement above, was that of a connection between music and the movement of the planets. 
Kepler's Harmonices Mundi was published in 1619, five books to "erect the magnificent edifice of the harmonic system of the musical scale...as God, the Creator himself has expressed it in harmonizing the heavenly motions". This idea of the "music of the spheres" in fact goes back to Pythagoras and his discovery of string harmonics. The planets and stars rotated in spheres concentric to the earth, the distance between the spheres related to music intervals, and the whole created musical harmony. Enough here to inspire Dante's Divine Comedy. But it is with Kepler's equations that we see an attempt to actually create the celestial music.
Paul Viotti and Ralph Abraham in 2003 presented "Kepler's Music Of The Spheres" at the San Francisco Art Institute.  Here, from Viotti's site, are links to Mercury and Earth, the most and least eccentric of the planets. The pitch changes with the approach to the sun. This should prepare you for All Six Planet Voices in Sync.  Next, we have Amaranth Publishing apologizing that it would take thirty years to perform Kepler's music in real time -- the planets just take too darn long in their journeys.  But a speed up is possible, giving us these excerpts from their Planetary Canon and Earth-Venus.
Less mathematical/astronomical and more inspired/astrological, we have Gustav Holst's, "The Planets". The link is to the CD where Andre Previn is the conductor.  In April of this year, the work was performed by the Houston Symphony, with Hans Graf conducting. Unique to the event: NASA pitched in with the latest planetary photographs making for a stunning multimedia event, nicely described by CBS News.